We are moving. Posting this is bittersweet. I started this blog after we moved to Alabama and in some ways it tells the story of our journey here. Now the journey is changing. Tim and I are called to missions. Several times in our ministry we have explored the opportunity to go into international missions, but we have always felt compelled to plant churches in America.
Now we have the opportunity and the privilege to plant another church. We will be moving in October to Phoenix, AZ to plant a church with the Evangelical Free Church. We love Arizona and have long wanted to move there. We are looking forward to this opportunity in so many ways.
Yet this time is truly bittersweet. We love our church in Alabama. They are so much like family to us. This has been a wonderful place for us to spend three years. There are many tears over this but what a wonderful blessing for us. Our church has given us their full support and blessing to move forward with this and they truly show us a picture of God's grace and blessing.
We will be moving to the area of Buckeye, Arizona which is a suburb of Phoenix. It is one of the fastest growing suburbs in America. We will be working with the EFCA West and with Compass Church to launch this new church next year. This year we are working on fund raising, getting prepared to move and the actual move. We will also be working on church logistics like setting up a website. Once we are in AZ we will be making contacts and developing a launch team.
Please keep us in your prayers and thoughts in the next couple of months. Things are hectic and we are hoping to make this a smooth transition for our family.
Here are some photos to show you how much things have changed since we moved here.
This is Josh at a Auburn game in 2005.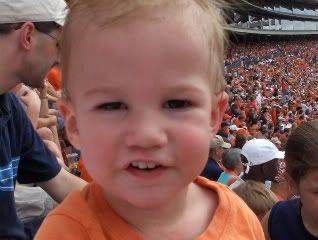 This is Josh at Callaway Gardens in July of this year.